IMPACT 21 International Theatre Festival
IMPACT 21 brings powerful performances. Adapted for COVID-19. Theatre is here.
September 28th – October 9th, 2021 | Waterloo Region & Online
THANK YOU FOR MAKING IMPACT 2021!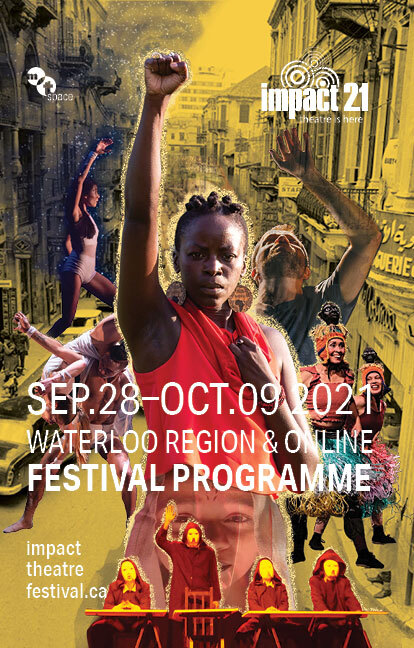 Download the 2021 Festival Programme
DIGITAL PROGRAMME LAST UPDATED: MON, OCT 04, 2021

The IMPACT 21 Festival Programme is now available online – click the cover above to access the full PDF of the programme (approx 2mb).
Limited numbers will be printed due to in-person venue limits – so this is one of the best ways to learn about and navigate the whole festival in one place.
IMPACT 21 // Festival Programming
FUEGO ROJO
LA PATOGALLINA
Y CICLICUS
MOBS (OR EXERCISES IN CITIZENSHIP)
NAC FREE REIN DANCE RESIDENCY
RAVEN MORAND & KATE KAMO MCHUGH
THE WEEKEND
MOOGAHLIN
PERFORMING ARTS
THIS IS NOT A CONVERSATION
How Do We Begin Again?
Industry Conference
Registration is FREE
Jump into Week Two – Sign up today!
IMPACT // Past Festival Programmes
Please click on the cover page of one of the past festivals to access a PDF of the full programme.
STAY CONNECTED
Whether you're a student, theatre-lover, musician or actor - we want to keep in touch with you! Join our mailing list to get upcoming news, jobs, and productions in our arts community delivered straight to your inbox (we'll send you an email where you can customize how you would like to be contacted).