IMPACT 21 – Festival Schedule
Festival Schedule – by Show
Last Updated: MONDAY, OCTOBER 4th, 2021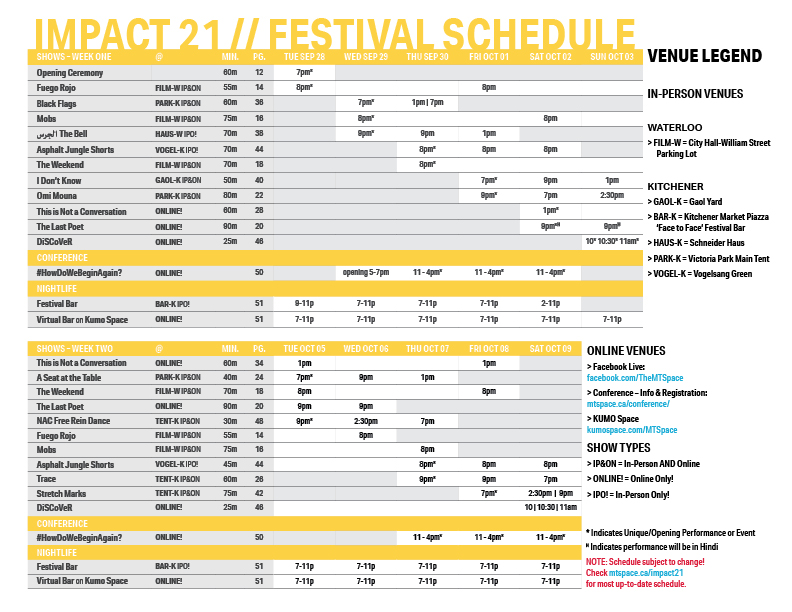 SPECIAL NOTE 1: FOR SHOW THE LAST POET October 2 & 3: Performances mostly in Hindi and Urdu (with some English). No subtitles. October 5 & 6: Performances entirely in English.
SPECIAL NOTE 2: Due to the rain today (SUN 03.OCT.21) the 1 pm show I Don't Know will take place at Victoria Park instead of at the Gaol Yard. In order to accommodate this, both the live performance and livestream of Omi Mouna will begin at 2:45 instead of at 2:30. If you are watching in person, you may choose to attend I Don't Know for free and stay to watch Omi Mouna.
SPECIAL NOTE 3: WEEK TWO: All performances of NAC Free Rein Dance Residency and Stretch Marks are moved to PARK-K (Victoria Park – Clock Tower Tent / Stage) due to the rain in the forecast. Times stay the same. 
SPECIAL NOTE 4: NAC Free Rein Dance Residency Performances on Tues & Thurs featuring the collaborators from Raven Morand's Residency, in earnest of honouring the sacred practices shown in these presentation, we would like to advise ticketholders, attending in person especially, to refrain from consuming alcohol prior arriving to these performances.