The Weekend
Lara, a Sydney mum working interstate as a dancer, receives a distress call from her youngest son. Dad hasn't been seen for days and they are running out of food. Lara has only the weekend to traverse the world of high-rise public housing, drug dealing, and addiction to track him down. And if she succeeds, what will she find? 
The Weekend is a rollercoaster ride into one woman's nightmare scenario, one from which she emerges a little wiser about the world and herself. Dancer-turned-playwright Henrietta Baird's one-woman play blends laughter, hope, love, and loss into a young family's search for a new beginning.  
The Weekend was first developed at Yellamundie Festival 2017, had its world premiere with Moogahlin Performing Arts at Carriageworks as part of the 2019 Sydney Festival, and subsequently presented at BATS Theatre in Wellington for the Kia Mau Festival.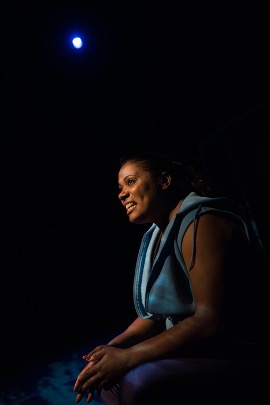 About the Company 
Moogahlin Performing Arts was formed on Gadigal country in Redfern N.S.W in November 2007, by a group of First Peoples performance artists, educators and community workers. Bunuba man Frederick Copperwaite, Murriwarri woman Lily Shearer, and Biripai woman Liza-Mare Syron established the company at the request of the late Kevin Smith who wished to bring performing arts back to the community of Redfern, in honour of the founding members of the National Black Theatre. 
Moogahlin Performing Arts was incorporated in 2009, with Redfern Community Centre and Gadigal Information Service hosting them until they became a resident company of Carriageworks in 2014. In 2015 the Co-Founders stepped down from the Board to become Co-Artistic Directors, and joined by Yorta Yorta theatre maker Andrea James from 2015 – 2016 to form a peer-based Artistic Directorship model utilizing cultural principles to provide a supportive, yet critical and interrogative framework for the discussion and development of new work.  
Moogahlin's first production was the third instalment of the PACT led project Gathering Ground in 2010 at the Block in Redfern Sydney, a community performance development project. Since that time the program has grown to include three key festivals, the Yellamundie National First Peoples Playwriting Festival, Baiame's Nguungu Festival in Brewarrina, and Koori Gras with the Sydney Gay and Lesbian Mardi Gras, as well as several new work developments and artist and sector development initiatives. 
"Lara's journey, more familiar than it should be, is told comically but finally with great power."  

– John McCallum, The Australian 
Special Thanks & Acknowledgement 
The Weekend is supported by the NSW Government through Create NSW, and the Australian Government through the Australia Council for the Arts and the Catalyst — Australian Arts and Culture Fund. 
Show Credits 
Playwright: Henrietta Baird 
Director: Liza-Mare Syron 
Cast: Shakira Clanton 
Producer: Lily Shearer 
Choreography: Vicki Van Hout 
Sound Design & Composition: Nick Wales & Rhyan Clapham (Dobby) 
Lighting Design: Karen Norris 
Set Design: Kevin O'Brien