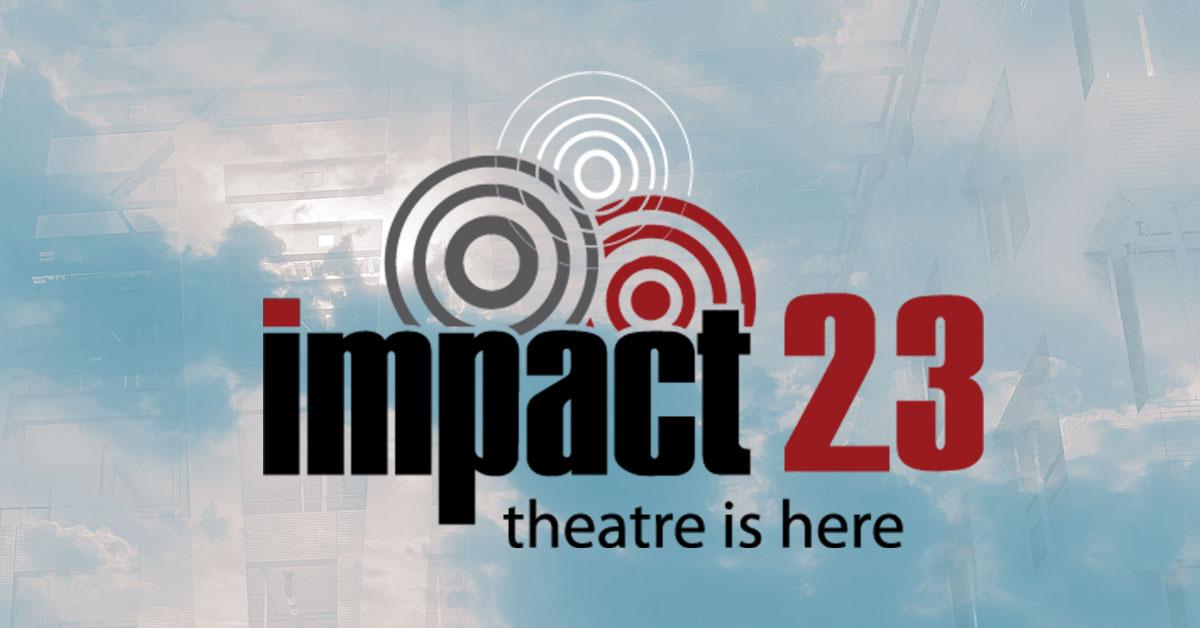 IMPACT 23 – Schedules, Venues, & Maps
In an intensely short period of time—so much theatre and art at different venues: From traditional theatre buildings, to outdoor stages, and impromptu performance spaces
INSIDE
Crowne Plaza Hotel
105 King St E, entrance off Benton
Shows: Ode to Katherine (Crowne Pool)
Conference: Trillium Room
The Registry Theatre
122 Frederick St
Shows: La dernière, Deafy,
20 Grains of Rice, RESCATE
SkyWatch
8 Queen St N, Unit 3
Shows: Sand Pendulum, Bulfinch's Mythology, Hello Buffalo
TWH Social
1 King St W
Shows: UNCIVILIZED
Other: Festival Bar
The Walper Hotel: Oak Room
20 Queen St S
Events: Writers' Series
OUTSIDE
Kitchener City Hall Stage
Carl Zehr Square, 200 King St W
Shows: Kuramanunya, There Are No Gays in Chechnya, Mixed(er)
O:se Kenhionhata:tie
Land Back Camp
466 Queen St S
Schneider Haus
466 Queen St S
Shows: Corporate Finch, Homecoming
Downtown Kitchener
Street Events #DTK:
King Street (Saturday)
King St: on the street, near the intersection of King and Queen
Gaukel Street (Sunday)
Gaukel Block: outside 44 Gaukel St
Shows: The Meeting Place, Hybrid Women, Termite
Asphalt Jungle Shorts
meet outside 44 Gaukel St
Outdoor Venues & Weather
For shows at outdoor venues (Gaukel Block, King St, Kitchener City Hall, Schneider Haus), make sure to dress appropriately – if there is a light drizzle, the show will go on. A raincoat or sweater may be helpful. Please keep an eye out for an email in advance regarding a rain plans.
Schedule Corrections
Last Updated: Sunday, October 1st, 2023
Initial programme print lists Uncivilized as Sat, Sep 30, 8pm and Sun, Sep 30, 5pm – has been corrected to Sat, Sep 30, 5pm and Sun, Oct 01, 7pm
Wednesday, September 27th: La Dernière's start time has been pushed to 8pm. As this is an 80 minute show, you will not be able to attend Kuramanunya in its entirety. Ticket and passholders with concerns please reach out to box office phone 519-585-7763 | tickets@mtspace.ca 
Saturday, September 30th and Sunday, October 1st: Arts Exchange: Homecoming performances are at 12 pm both days.
Sunday, October 1st: The Meeting Place may be held until 6:15pm (from original start time of 6pm).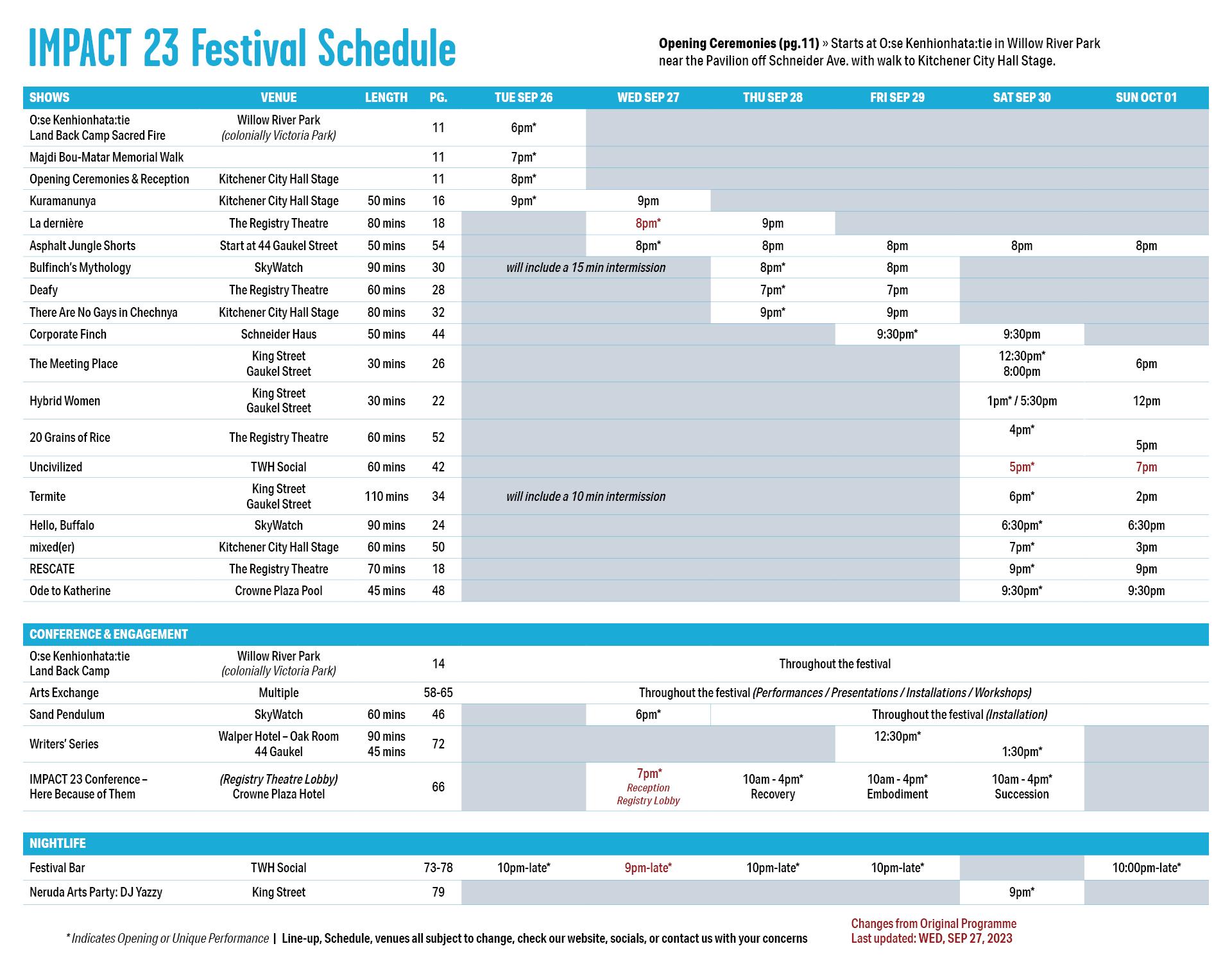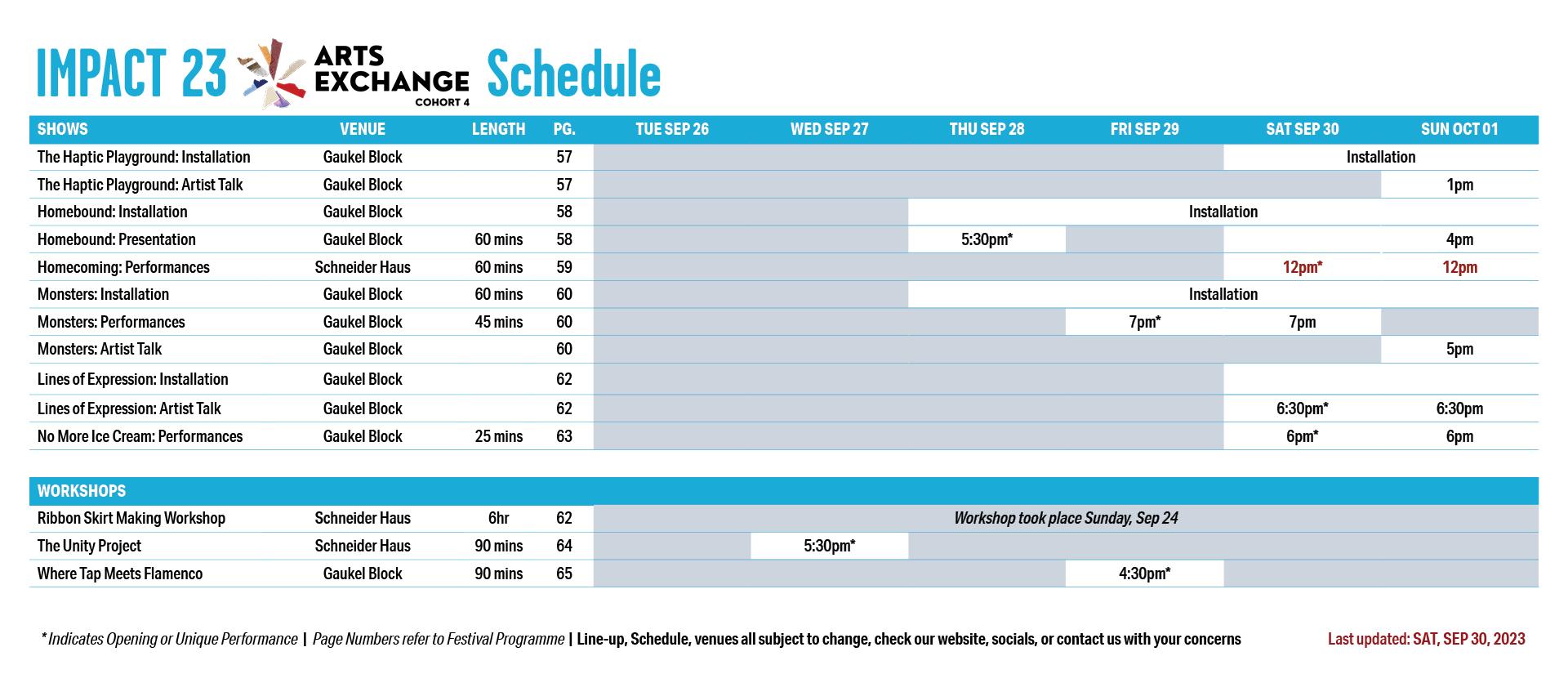 Venues Map | Downtown Kitchener & Willow River Park