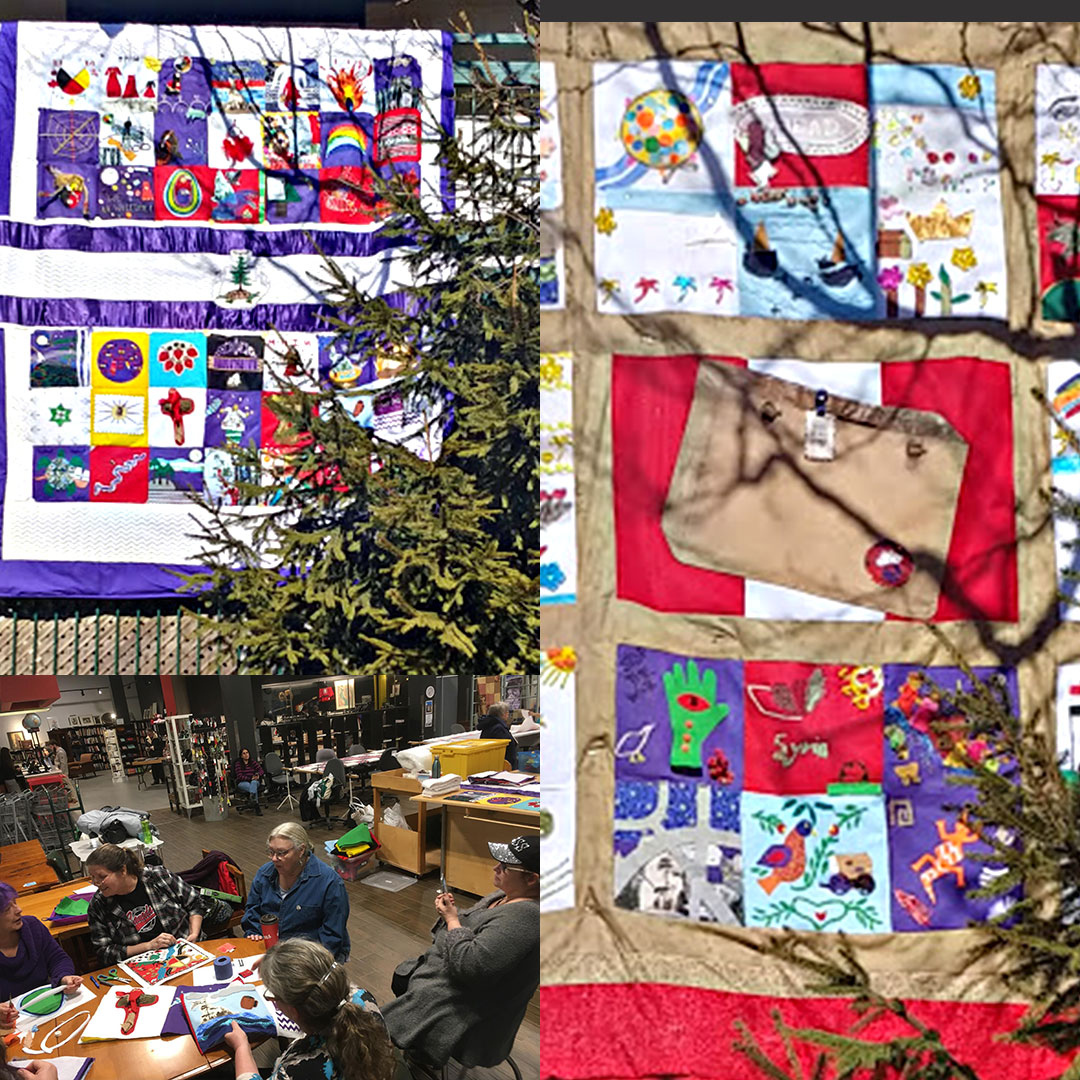 FROM THE COMMUNITY
Neighbours Quilt Project
Where common memory is lacking, where people do not share in the same past, there can be no real community. Where community is to be formed, common memory must be created.
~George Erasmus, Dene & Cree-Metis 
Quilts on Display During IMPACT 21
Come and visit your Neighbours at Schneider Haus starting on October 2nd during IMPACT 2021.
These two community quilts are being displayed by Schneider Haus from October 2nd until December in Kitchener. And we are delighted to be an ancillary local exhibition connected with this years' IMPACT International Theatre Festival. We were planning to hold an unveiling the week of the first shut down of the Pandemic in March 2020 as part of Pat the Dog's FEMME FOLKS FEST. Many individual helpers came the week leading up to this exhibition for phase one of this project which was to be the unveiling of the final quilts on display at Waterloo City Hall. But then everything shut down and the world went eerily quiet as we learned how to live with COVID 19. Something we are all still learning and adapting too. 
These quilts will become scenic back drops that reflect upon the Truth and Reconciliation's Call to Action 93 through the arts of story sharing and sewing.
About the Quilts' Origins
The quilts are intended to create a conversation between newcomers and Indigenous realities specific to Block 2 of the Haldimand Tract currently and historically.  Recognizing Canada's colonial history and ongoing challenges with the truth of Indigenous peoples in our own lands and the realities for all people contending with ongoing settler colonialism. While also engaging with the stories of displacement and landing expressed by newcomers to Canada who may or may not be aware of the existence of Indigenous Nations and peoples within, or straddling Canada's modern and constructed boarders.
This is an ongoing inter-arts inquiry into the meaning of treaty making as a relationship of knowledge sharing while living side by side from multiple separate and intersecting social locations representing moments in time and legacies of ongoing contact between original peoples and those who are new to Turtle Island not simply from the observances of theoreticians but from the expression of lived experiences that are tangible, tactile, and dynamic.  
TRC Calls to Action #93 and #94 specifically charge the federal government with providing a "more inclusive history of diverse Aboriginal peoples in Canada, including information about the Treaties and history of residential schools." And revising the Citizenship Oath to include swearing to "faithfully observe the laws of Canada including Treaties with Indigenous Peoples."
The project privileges Indigenous Voices to inform what our community feels should ultimately be shared in the Canadian Citizenship Newcomer Kit. While the recommendation asks for consultation with National Aboriginal Organizations, we think this Call to Action needs to go deep, as well as wide, within its search for the most relevant information that needs to be shared between groups.  Recognizing that dialogue is often more constructive in the long run than only a monologue. We had originally wanted to display these quilts at Schneider Haus in recognition of their long relationships with and exhibitions of the tradition of quilt making. And with the understanding that the Schneider's were the first settlers to this region who were helped immensely by the local Indigenous peoples who were already here when they arrived. Their survival was intrinsically dependent upon the sharing of Indigenous knowledge. And here we are. The original vision is being realized with the help of IMPACT Theatre Festival. 
It is readily acknowledged that many newcomers to Turtle Island would not have survived without the guidance and generosity of the original caretakers of these lands. For the Schneiders, this meant being helped by a local Mississauga Winter Encampment where Victoria Park is today. This area was also recognized as a gathering place prior to the forming of Canada by many Indigenous peoples who lived and traveled through this living landscape. It is now part of the modern Haldimand Tract which was land promised to the Six Nations after their service and alliance with the British during the United States War of Independence.
This project also privileges the stories of current newcomers to Canada who have often been displaced themselves, due to the forces of ongoing globalization. This legacy of worldwide empire-building often produces war, famine, poverty, climate injustice, and systemic and ongoing human rights abuse. 
The quilts compose images that ask many questions. What has been lost? What has survived? What is resiliency? What will be re-birthed and re-claimed in our journeys down the river of time together on these lands upon the back of Turtle Island?  Stories that expand back to time immemorial and move forward to futures imagined but not yet lived. And now we are all experiencing this pandemic together but are our experiences the same or different and how?
The art of sewing is the art of keeping things together.
After all, sewing is one of the first technologies of human survival. Traditionally a woman's job or task, quilts like many of the early treaty belts, can and do hold memory. In the Region of Waterloo, which is the traditional territory of the Chenussios (Neutral Confederacy), the Mississauga's of the Credit (Anishinaabe), and the Haudenosaunee of the Six Nations the art of quilting thrives as mostly a settler art form where the areas Mennonite heritage is strong and celebrated wholeheartedly. And there is a strong and thriving tradition of quilting throughout many Indigenous Nations and communities as well. 
Supporters & Partners
We have been supported in the creation of these quilts by Thrift on Kent as part of the Mennonite Central Committee to create community sewing bees, as a way, to restore a sense of sharing and community that is the legacy of women's work. And yes, men have joined in and contributed squares and helped sew it all together. We also acknowledge and invite 2SLGBTQ to participate and share their challenges and triumphs. 2S within many Indigenous societies to Turtle Island were and are considered extremely valuable contributors and leaders who have important knowledge and insights to offer in all constitutions of community.
This project was envisioned and coordinated by Heather Majaury (Algonquin Anishinaabekwe and Settler Canadian. Terre Chartrand (Also Algonquin and Settler) from Pins and Needles Fabric Company was brought on in 2019 to support the project's first installation at the IDEA EXCHANGE in Cambridge because of her stellar Inter-Arts practice.  The project was originally commission and produced by the Kitchener Waterloo Multicultural Centre and has been funded by the Ministry of Citizenship and Culture and currently by the Ontario Arts Council. It has involved several local Indigenous and Newcomer Artists, in a few different disciplines, most notably Schwaben-Canadian Katy Pheiffer, the designer of the Newcomer Quilt and Wanda Wilson, Mohawk and Tuscorora Nations, the designer of the Indigenous Quilt. Our Master Quilter is Khajida Skuker a newcomer to Canada who is Kurdish- originally from a region of North Eastern Iraq. The project supports members of the community to contribute their stories to these ever-growing tapestries that will themselves begin to form two rows of quilts. Each row telling a myriad of related and interconnected stories of culture, history, emotions, with important autobiographies that we think can contribute to call to Action #93 locally in a way that starts good conversations, building empathy and understanding through the sharing of knowledge and lived experience. 
It is acknowledged that it is in the space between these rows where the diplomacy of common stewardship occurs. This is an ongoing process therefore the Canadian Citizenship Kit is also a living document.  Like the silver chain envisioned by the Covenant chain wampum belt exchanged at Niagara, it must be re-shined to have meaning with mutual integrity. The newcomer kit can serve as a decolonizing document and process, or as a hegemonic one.  It is our hope that this community arts project contributes to the former. 
STAY CONNECTED
Whether you're a student, theatre-lover, musician or actor - we want to keep in touch with you! Join our mailing list to get upcoming news, jobs, and productions in our arts community delivered straight to your inbox (we'll send you an email where you can customize how you would like to be contacted).