Fuego Rojo
"The work tries to convey the common ideas that the inhabitants of this territory called America share, which have been lost due to economic issues, colonization, dictatorships, and political traumas."  
A funeral is transformed into a pagan celebration, a coffin becomes a portal which brings forth the voices of Atahualpa and Jemanya, and the rituals of the Yawar and shrines to the dead are put on display in this rustic opera. Physical theater and contemporary circus mix and meld, breathing life into a series of dreamlike landscapes through the use of object manipulation, poetic imagery, and live music.   
A Latin America under construction is presented in this dynamic production that speaks to us about the tension that exists between our memory of the past and our experience of the present, raising the questions: How much of that past have we lost? How much of it lives within us in the present? Is it possible to reconnect with that past?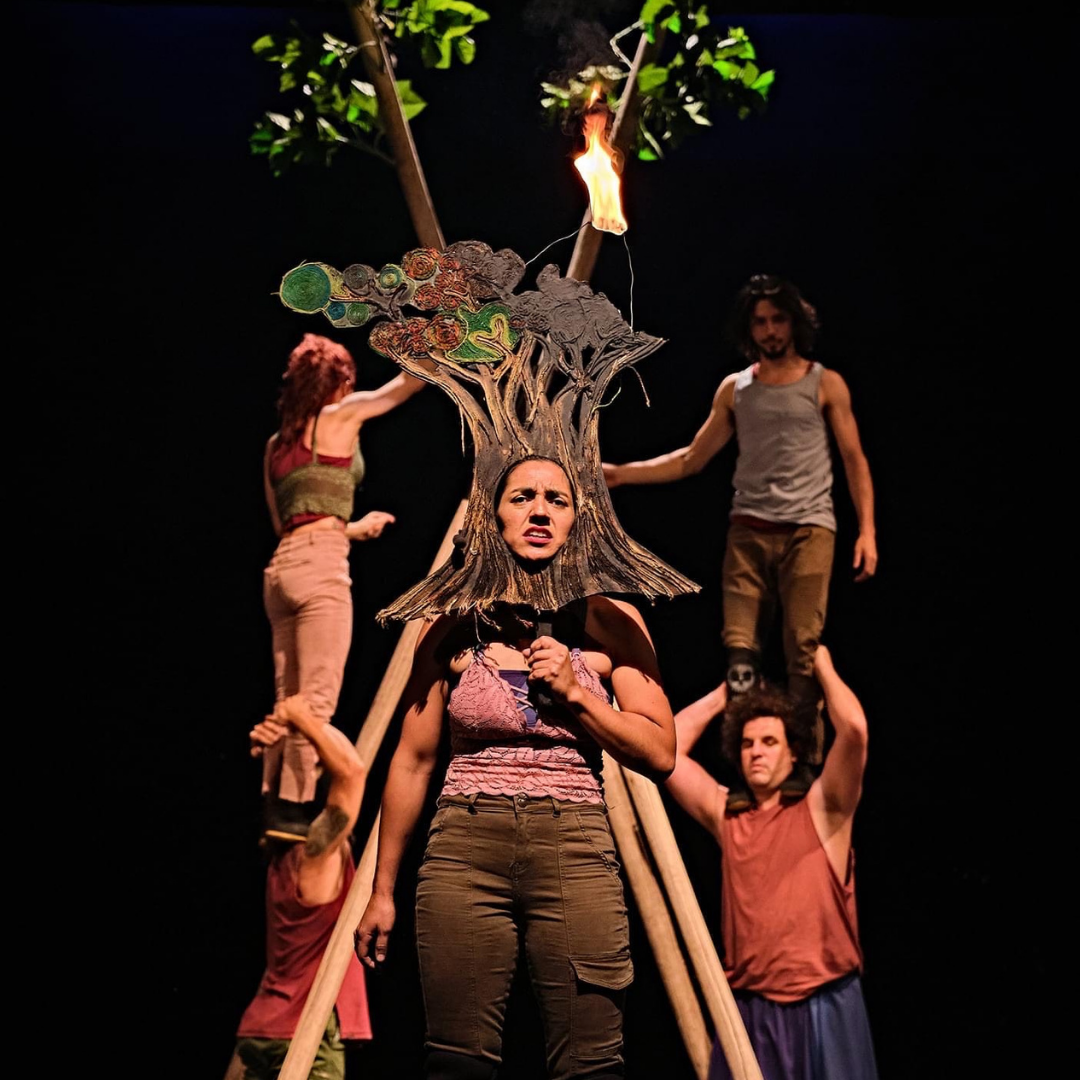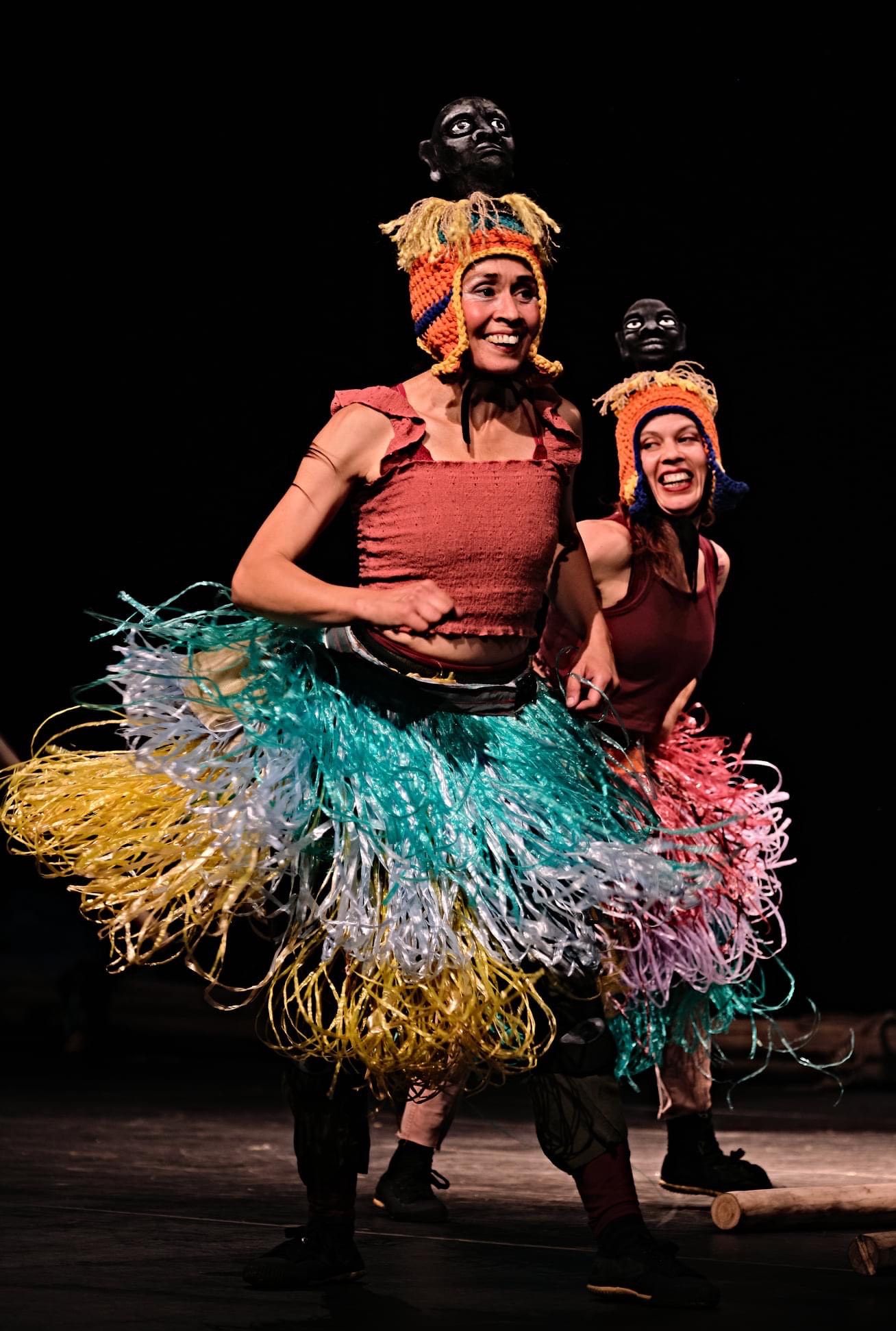 About the Company 
La Patogallina is a street theatre company born in 1996 with their experimental project A Sangre e Pato. As a result of this first project, they were invited to Argentina to the First International Conference of Street Theater and Circus Arts where they experienced a fascinating and fertile independent street art movement that became a fundamental moment in the company's development.   
In the year 1999, La Patogallina laid the true foundation of their particular style and theatrical language, giving form to one of their most noted and successful productions to date, El Húsar de la Muerte (The Hussar of Death), under the artistic direction of Martin Erazo. This marked the beginning of La Patogallina´s formal organization as an artistic and theatrical collective.   
Artistically, until its premiere, no other theatre production had fused such a diverse array of expressive elements such as cinema, live music, and tragicomedy, among others, as well as delivering a strongly critical political narrative. La Patogallina transformed El Húsar de la Muerte into a theatre production with a very original and distinct artistic style, which through its gesture-based language has reached and affected spectators of the most diverse origins and nationalities.   
Ever since these fruitful and successful beginnings, the company has worked incessantly on new projects and creative processes. To date, after 20 years of activity and dedication, the company accounts for a broad and active catalogue of original productions.  
Currently, La Patogallina is composed of 16 members, among which are actors, musicians, producers and other members of diverse artistic backgrounds.   
Special Thanks & Acknowledgement 
Incluir Logos  
Ministerio de las culturas las artes y el patrimonio 
Fundación FITAM 
Show Credits 
Director: Martin Erazo (Chile)  
Original Idea & Dramaturgy: Martin Erazo & Leandro Mendoza (España)  
Assistant Director: Francisca Arce  
Cast: 
Francisca Arce 
Gloria Salgado 
Francisca Artaza 
Valentina Weingart 
Alex Carreño 
Matias Burgos 
Juan Ferino 
Musical Creation & Interpretation: Alejandra Muñoz  
Wardrobe Design: Antonio Sepúlveda  
Lighting Design: Martin Erazo  
Accessory & Headdress Design: Gabriela Gonzalez & Natalia Morales  
Puppets (Apu Condor): Tomas O´Ryan  
Circus Equipment Design: Leandro Mendoza & Ulrich Weigel  
Stage Design: Taller La Patogallina  
Sound Design: Pablo Contreras  
Circus Coach: Exzequiel Silva  
Communications & Press: José Arroyo  
Graphic Design: Tomás Yves  
Production: Lorena Ojeda S. Minga Producción Escénica