Events | Monsters of Today (Dance Project) at Kultrún Festival 
Create your own character inspired by recycled materials, and dance with two powerhouse Latin-Canadian artists
MT Space invites movers of all art disciplines to collaborate in a free, outdoor dance project! With guidance from Vanguardia Dance Projects' artistic directors, participants will create their own monsters  out of wearable recycled materials and design a series of dance interventions to be performed at Neruda Arts' Kultrún World Music Festival. 
Workshop details 
Wednesday July 10 – Friday July 12, 2019, 

5 – 9 pm*

Rehearsal Space at 44 Gaukel Street, Kitchener*
FREE workshop
Snacks provided
Performance details 
Saturday July 13 & Sunday July 14, 2019, 5 – 7 pm*

Victoria Park, 

Kitchener


(Parking slots available throughout the park)
*subject to change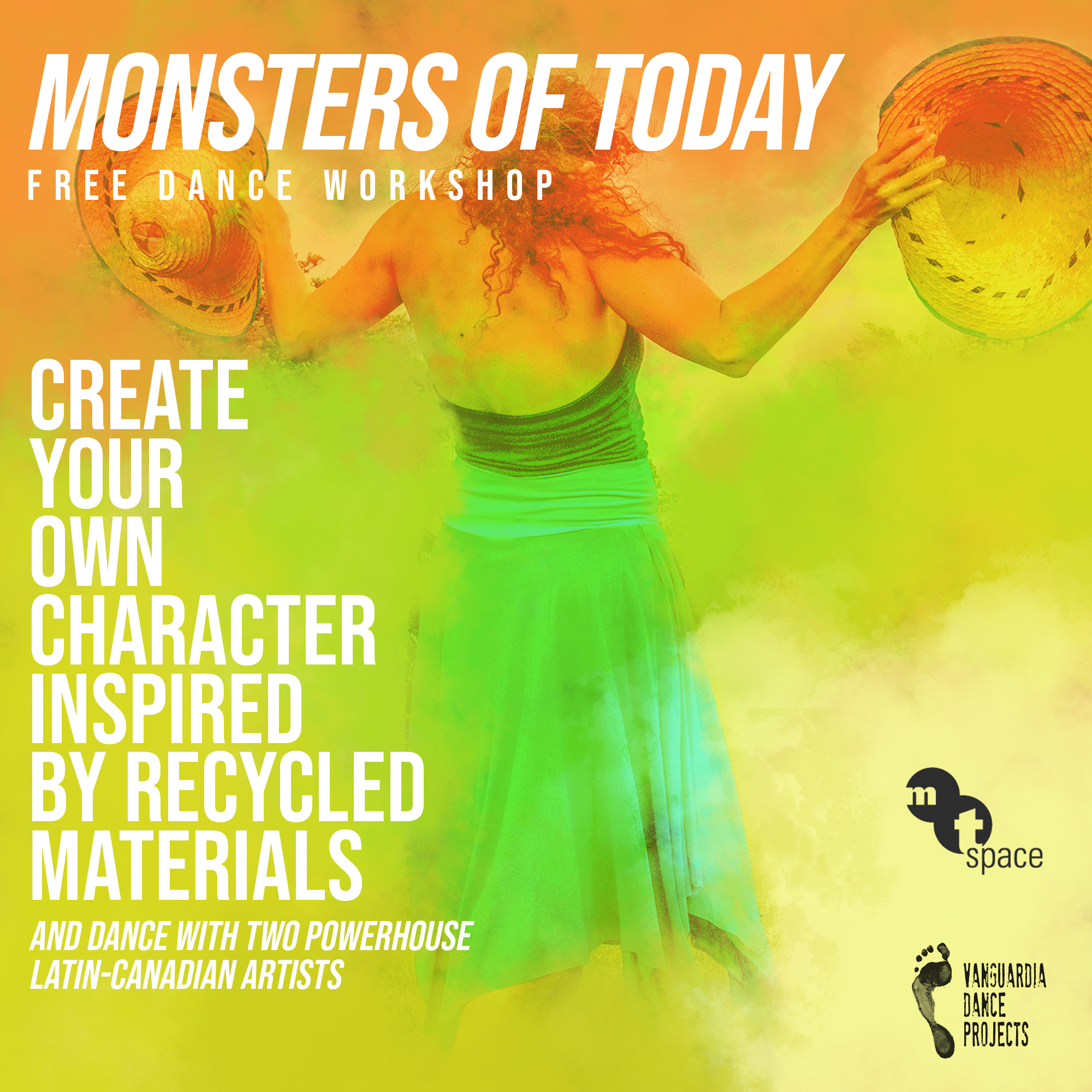 Vanguardia Dance Projects (VDP) is a collective of Latinx Canadian artists. VDP is committed to supporting contemporary dance through events such as their bi-annual festival, production work, workshops and tours. Vanguardia intends to promote an ongoing exchange and collaboration with international dance organizations and artists. Vanguardia is also interested in the dissemination of contemporary artistic practices of Latinx-Canadian dance artists, maintaining conversation with the rest of the country and the world. Vanguardia supports innovative artists of all disciplines pushing the boundaries of what is called "contemporary" as well as dance pieces, reflecting a permanent search of expression through different languages. 
Kultrún World Music Festival is dubbed the Region's largest annual outdoor dance party and features top talent from around the world, while celebrating cultural diversity. Local, national and international acts perform throughout the weekend, and with two stages set up in Victoria Park, the music is non-stop! Kultrún is a festival that is intended to entertain, inspire and create community. 
This workshop will serve as the first part of this year's exciting Young Company Program (YOCO). YOCO is a mentorship & theatre performance opportunity for youth from all backgrounds, and we encourage especially those from BIPOC (Black, Indigenous, People of Colour) and other marginalized communities to join us in this year's programming. We will share more information about the rest of this year's YOCO programming soon!