6 days. 50 powerful performances. Downtown Kitchener. Theatre is here.
#IMPACT19Festival Tickets
INDIVIDUAL IMPACT 19 TICKETS
$20 REGULAR ($25 DOOR)
$10 STUDENTS & SENIORS ($15 DOOR)
IMPACT 19 FESTIVAL PASS
$190
INCLUDES ALL TICKETED EVENTS (EXCEPT NERUDA PARTY)

IMPACT 19 CONFERENCE PASS
$250
INCLUDES 3-DAY CONFERENCE & FESTIVAL PASS

IMPACT 19 DANCE PASS
$80 REGULAR
$40 STUDENTS & SENIORS

About the 2019 IMPACT Festival
IMPACT Theatre Festival is one of Waterloo Region's signature events. IMPACT 19 is the sixth biennial international theatre festival presented by MT Space in Waterloo Region, and marks the 10-year anniversary of IMPACT. World-class local, national, and international performers gather in downtown Kitchener for theatre that moves and speaks in new ways. Are you ready for IMPACT 2019?
September 24 – 29, 2019
Various venues centred around Downtown Kitchener

The lineup features theatre that is socially and politically relevant, addressing topics of migration, colonization, and family while holding up a mirror to our own instinctual human nature. This year's festival presents raw and unflinching personal narratives, and for the first time, will offer a street festival component in partnership with sister organization Neruda Arts.  
Productions from Tunisia, Mexico, Ecuador, and Iran, as well as theatre and dance from Vancouver, Montreal, Toronto, Barrie, Six Nations of the Grand River, and locally born and bred work will be featured at IMPACT 19. 
The festival will bring 100 artists, 100 industry professionals, 100 volunteers, and several thousand theatre–goers from across Canada to downtown Kitchener in an environment of collaboration and cultural exchange. 
For details of our lineup this year, please click on the brochure cover for the PDF of our full launch brochure!
Festival Conference | #Erasing_the_Margins
DAY 1: DE-INTERNALIZE 
Recognize and challenge attitudes and behaviours that have become part of one's nature because of unconscious assimilation.
DAY 2: DE-COLONIZE 
Reclaim, redefine, and reframe narratives and histories to slowly undo colonization and a dependency on colonial structures.
DAY 3: COLLECTIVE INTELLIGENCE 
Walk away with a shared intelligence that emerges from collaboration, generating new ideas, solving problems, and making better, more informed decisions about the future.
This IMPACT 19, we will discuss what it truly means to "erase the margins" and centralize perspectives that challenge us to reconsider how we approach art-making, collaboration, and creating space. #Erasing_the_Margins will create a space for exploration and incubation of various approaches to collaboration and accessibility as it relates to artists, audiences, and presenters, creating a ripple effect in the broader theatre ecology through delegates carrying these approaches back to their respective communities and applying different methodologies to their work. 
Join us and be a part of the movement.
IMPACT 19 CONFERENCE PASS
$250
INCLUDES 3-DAY CONFERENCE & FESTIVAL PASS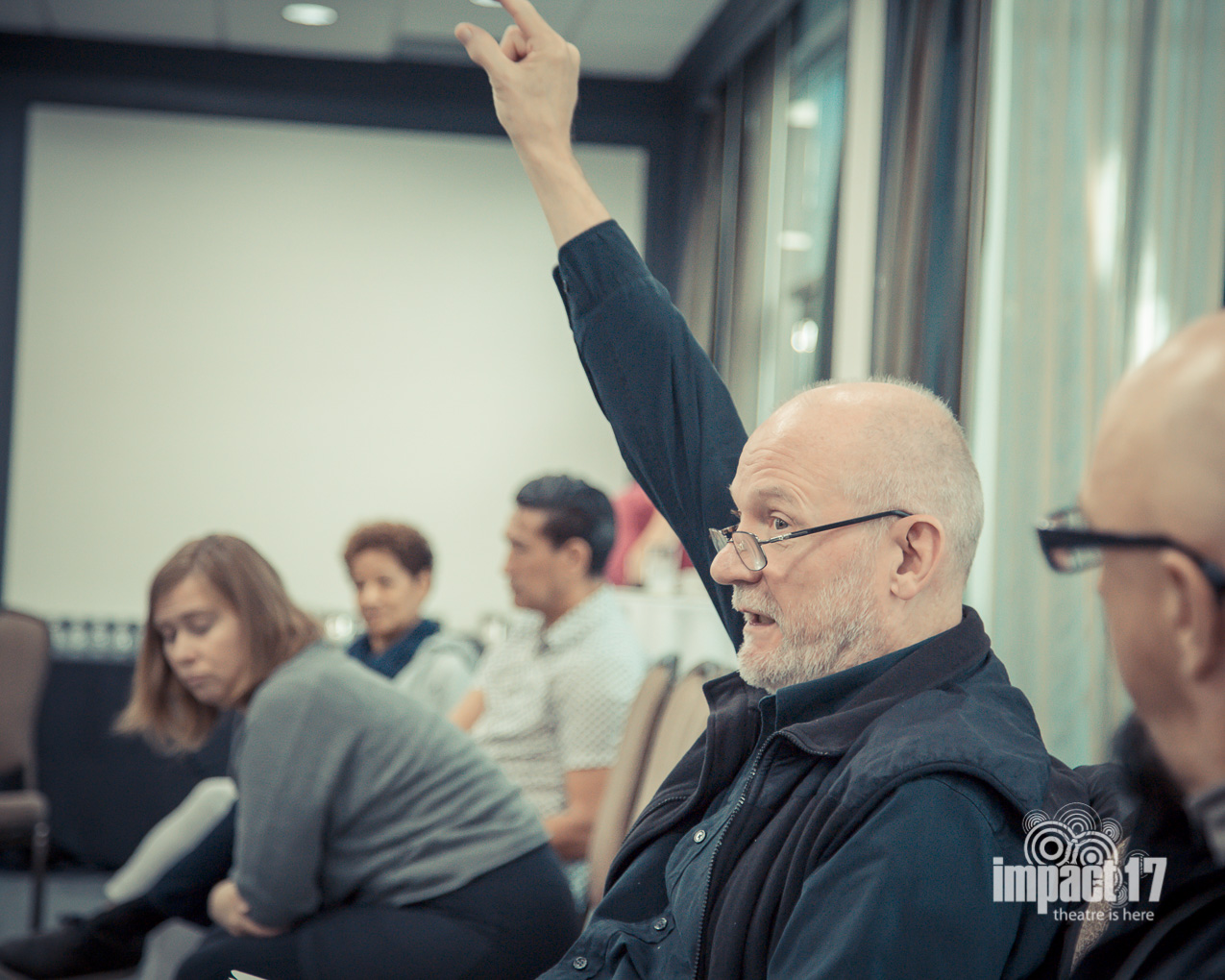 Photos from IMPACT 17 Festival Conference | #Survive_Resist_Create | Photo: Andy Wright, Deadfly Media
"It's a celebration of theatre action where language is no barrier, and old-school speechifying takes a back seat to contemporary theatre full of physicality, music, video projection, light and dance." – Timothy Grier, Waterloo Chronicle
Please click on the cover page of one of the past festivals to access a PDF of the full programme.